Our Redeemer Lutheran Church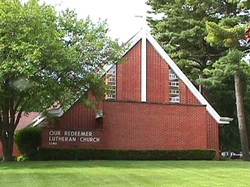 Ev. Lutheran Church of Our Redeemer - L.C.M.S.
1320 S. Blackhawk Street
Freeport, Illinois 61032
(815)232-6934 Phone
(815)232-0036 Fax
email: ourredeemerlives@frontier.com website: ourredeemerfreeport.org



---
Worship Schedule
We invite you to join us for Sunday Worship and fellowship:

Sunday Worship Service 9 A.M.

Sunday School (on non-communion Sundays)

Adult Bible Class 10:30A.M.

Our Redeemer Theme
"Moving Forward in Faith"

Midweek Lenten Series: We all suffer – personally and privately. Sometimes the pain is felt for quite some time. Especially now we need to hear again Scriptural words from the book of Job. The purpose of our midweek Lenten series is to learn how to apply Job to our lives as we traverse through life's dark shadows. This series was produced by Dr. Reed Lessing, former professor at Concordia Seminary in St. Louis and now an LC-MS pastor in Ft. Wayne, IN. Our services will be on Wednesday evenings at 6:30 p.m. The themes are:
March 8th – Sweet Surrender (based on Job 1:13-21)
March 15th – Learning to Lament (based on Job 3:1-26)
March 22nd – It is Enough (based on Job 14:1-14)
March 29th – Understanding How it All Works Together (based on Job 23:1-17)
April 5th – God Speaks in the Storm (based on 38:1-11)
Plan now to take some time to worship with us as we consider the sufferings of our Lord Jesus and how His love brings us comfort and healing in our own suffering!

Srves
Large print bulletins and bibles available

Hearing aids

Radio Broadcast at 9:00 a.m. Sunday on WFPS 92.1-FM

Handicap parking and easy ramp accessible entry


Other Lutheran Links