Our Redeemer Lutheran Church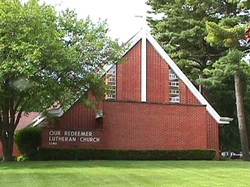 Ev. Lutheran Church of Our Redeemer - L.C.M.S.
1320 S. Blackhawk Street
Freeport, Illinois 61032
(815)232-6934 Phone
(815)232-0036 Fax
email: ourredeemerlives@frontier.com website: ourredeemerfreeport.org



---
Worship Schedule
We invite you to join us for Sunday Worship and fellowship:

Sunday Worship Service 9 A.M.

Sunday School (on non-communion Sundays)

Adult Bible Class 10:30A.M.

Our Redeemer Theme
"Moving Forward in Faith"

National Day of Prayer:
The date for this is Thursday, May 3rd.
The theme this year is "Unity" as observances and services will be held throughout our nation, as well as our own community.
Our church will be open from 8 a.m. to 5:30 p.m providing opportunity for prayer.
We will conclude the day with a Vespers service at 5:30 p.m.


Large print bulletins and bibles available

Hearing aids

Radio Broadcast at 9:00 a.m. Sunday on WFPS 92.1-FM

Handicap parking and easy ramp accessible entry


Other Lutheran Links