Our Faith
The Lutheran Church traces its history back to the early years of the 16th century when a man named Martin Luther lived. His rediscovery of the gospel truth that we are saved by faith for Christ's sake, apart from any human merit, marked the beginning of the Reformation.

Down through the centuries we have believed, taught, and confessed that our salvation is an act of grace by God the Father who sent His Son to suffer, die and rise again.

Our Lutheran Confessions state this about the church: "This is the assembly of all believers among whom the Gospel is preached in its purity and the Holy Sacraments are administered according to the Gospel." This is our historic Lutheran faith. In worship and service God's people find strength, forgiveness and hope through his Holy Word and Sacrament.
Our Congregation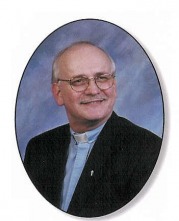 Our Redeemer was founded here in Freeport in 1910, and is a member of the Lutheran Church Missouri Synod. The current membership is 331 baptized souls, with 284 communicant members.

Our Pastor, Stephen Precht, was born in Springfield, Illinois. He is a graduate of the Concordia Theological Seminary in St. Louis, Missouri with a Masters of Divinity degree, and having done post- graduate work in the field of Pastoral Care at the University of Chicago. He began serving at Our Redeemer in October of 1997, after having served a parish in Chicago, Illinois since his ordination in 1980. He has a son, Timothy.

Our Redeemer is an active partner with the Freeport Crisis Pregnancy Center and the FACC Food Pantry.
---