Our Ministries
Responding to our Lord's love, the members of Our Redeemer are led to serve in many capacities.

On Sunday
As Ushers, Acolytes, Greeters, Lay Lectors, and Radio Announcers, many members serve by assisting with and participating in our Sunday morning worship service.

Bible Studies
Every Sunday at 10:30 a.m.
Wednesday Grace Bible Study from 9:30 a.m. to 11:00 a.m. (not during summer)

Meetings take place in the library

Choir
The choir practices on Thursdays at 3:00 p.m. and sing for worship services throughout the year.

Altar Guild
Women of the congregation who dedicate their time to prepare the altar for worship and care for the altar linens and Holy Communion vessels.

LWML
The Lutheran Women's Missionary League is a worldwide mission organization. They support our medical missionary in New Guinea.

Quilters
Making of Mission Quilts: Please come and join us on the 2nd & 4th Tuesday and the 1st & 3rd Thursday of the month for quilting. Start at 9a.m. till 2p.m. or whenever you have to leave. Bring a sack lunch and join us for some fellowship also. There is a need for many things besides quilters-- you can iron, cut out & piece together etc., many jobs need filling. For more information please contact 232-6934. We would love to have you join us!

And More!
A number of members have been involved in the P.A.D.S. homeless shelter and local food pantries. The list expands with the interests and abilities of our members

Our Fellowship

Christian fellowship is an important part of Our Redeemer. There are many opportunities for fellowship and socializing with other members.

There is a weekly fellowship time following our worship service with refreshments.

Redeemer Youth Fellowship is for high school students. In the past, beside social activities, they have helped with various projects at church and in the community.

There are also periodic family events such as decorating the church for Christmas, the annual church picnic and a Men's Church League softball team.
Our Redeemer Fitness Club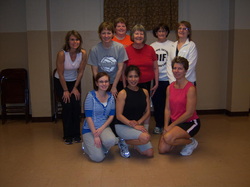 Our Redeemer Fitness Club meets every Monday & Thursday night at 5:00 p.m. and every Saturday at 8:00 a.m. (during summer)

The Fit Club is free and open to the public
---
Back Row left to right: Cheryl Lessman, Beth Barton, Kathy Bookman, Joan Sanford, D'Anne Homer, & Laurie Thiele. Front Row left to right: Jennie Basham, Kristia Hord, Valerie Borgmann.